Albinism Trust is helping the Blind Foundation to redesign services….  !
The Blind Foundation has begun a new phase of transformation, to enable the achievement of the aspirational objectives outlined in the 2015-2020 strategic plan and to adapt to a changing world. A cornerstone of the transformation is the redesign of their services, to determine how they can better meet the needs, wants and aspirations of clients today and into the immediate future. The service redesign will cover all the ways that a client can interact with the Blind Foundation; with the aim of creating a service experience that delivers the right things, at the right time, in the right place, in the eyes of clients. Research shows that a significant number of people eligible for services do not connect with the Blind Foundation. The intention is therefore to understand how the experience of the Blind Foundation can improve for existing clients and what would be attractive to potential clients.
The Blind Foundation will be taking a co-design approach to its service redesign. This means that that they are looking to bring together groups of clients, potential clients, whanau and other relevant members of the community who will shape the redesign together. Instead of traditional methods where feedback is sought and taken away to be worked on, co-design means that service delivery models will be developed in partnership. The robustness of this process is therefore dependent on strong client and user involvement.
A series of 'sprints' will be held, starting in early September and continuing through until the end of this year. Each sprint will bring together a group of clients, Blind Foundation staff and other community members to focus on a specific aspect or perspective on service. Sprints will be held in both Auckland and some regional centres. Could you be a participant in one or more sprints?
Some of the attributes that the Blind Foundation are looking for in building the co-design teams are:
A mix of experienced voices and fresh perspectives
Diversity in eye conditions, age, culture, home environments, geographic location
Open-mindedness, the ability to listen closely to the views of others, positivity, creativity and a solutions-focus.
Minimum availability of 3 days; subject to specific dates and location
Albinism NZ is keen to support the Blind Foundation in this journey. Please do be in contact with Louise von Sierakowski at the Blind Foundation if you could be interested in helping shape the services of the Blind Foundation into the future. Louise can be contacted at lsierakowski@blindfoundation.org.nz
The Blind Foundation would appreciate understanding a little more about you to ascertain how best you could be involved. They will be in contact with you to discuss your potential involvement in more detail.
Are you a current client of the Blind Foundation? Yes or No

If you are a client of the Blind Foundation has your connection been recent or long standing?

Are you a person with sight loss but not receiving services from the Blind Foundation? Yes or No
If you are a Blind Foundation client or person with sight loss not currently receiving services from the Blind Foundation please answer

What is your age? (approximate is fine)
What is your ethnicity or cultural background?
What is your home environment? e.g. do you live alone, with family, or in a rest home?

Are you whanau / family of a client or potential client of the Blind Foundation? Yes or No
Are you another member of the community not defined above? If so, please explain.
What part of New Zealand do you live in?
Please provide details on the best way to contact you:
This important work is being managed by Louise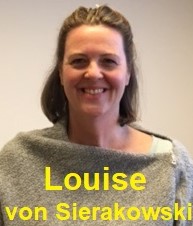 Do email Louise direct on :-