People with Albinism enjoy full and active Sporting, Recreational and Leisure interests.  Albinism Trust encourages pursuit of and participation in personal Leisure activities of choice.   We were pleased to learn about our Wellington member Olivia Wickens

who enjoyed a recent experience with a Blind Foundation Recreation event.
Climbing raises confidence
Blind Foundation clients aged between nine and 15 years old attended a rock climbing event at the Hangdog Climbing Centre in Lower Hutt re cently.  Blind Foundation client Olivia Wickens says that she really enjoyed the event.  "The free climbing was free-flowing and enjoyable."  Olivia Wickens climbing a wall. The event was organised by Wellington Recreation Advisor, Chase Evison, as part of a group for youth to develop self-confidence and try new activities. The group meet twice a school term and have tried everything from tenpin bowling to learning to make their own pizza.  Chase says that he has really enjoyed watching the youth group members become friends and seeing each person grow in their own way.  "They are now supporting each other and encouraging their peers while trying new activities. Some are becoming leaders in the group while others are building social skills. It shows us how important small groups like this can be for personal development and confidence."   For their next outing, the group is going to Access Radio in Wellington to do recordings of themselves speaking and introducing their favourite songs.
This Story was supplied by the Blind Foundation (c) 2014  and is published with permission
Tandem
One of our young women athletes 'Emma' has made quite an impact in Tandem Cycling.  Here is a photograph of Emma and her cycling partner Laura taken recently  as the team trained together.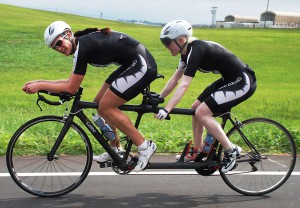 Photography
One of our older members enjoys Photography and says …. "I picked up a camera very early on in my life, reason being that I was brought up in the South Island High Country.    Days spent amongst the mountains and valleys gave me the opportunity to use my camera, to capture what I observed.    Being behind the lens of a camera has kept my interest and enabled me to develop my own style of photography which I like to share with others.  The relationship I have with the land and our natural environment are a reflection of what I see.   The lens in my camera has given me the clarity of visual imagination."
Astronomy
This is an absorbing interest in which 'the sky is the limit'. It is good to have a supportive Coach who knows and understands visual capacities.   There are Observatories and Societies throughout New Zealand who are keen to welcome people with Albinism into Astronomy. There is more information available at the 'Viewable Sky' site www.viewablesky.nz
 

General Recreation Ideas for People with Albinism
People with albinism live full and active lives participating in and leading many groups or organisations.  This list is intended as a possible guide only as individuals will want to choose options for themselves.  The inclusion or absence of an item in this list is not to imply its suitability or otherwise. We aim to encourage full participation in and enjoyment of Recreation, Leisure or Sporting activities of choice.  Some pass times which might be of interest include :-
Join or form a walking group or rambling club.

Take an interest in Forest & Bird learning the different songs and calls.

Consider amateur radio where you can chat to people from all over the world.

Toastmasters, Debating and other Public Speaking.

Contact a tandem cycler who might like a partner.

Learn to swim.

Join an Astronomical Society.

Make and fly Kites.

Learn to carve and work with various materials.

Join an evening class in pottery, cookery, history, archaeology, astronomy, photography, writing, model making.

Learn a foreign language.

Join a local history group.

Join a local Women's or Men's Group.

Many churches hold Gathering's of interest.

Offer your services as a Volunteer.

Enrol on a course and learn about Computers, Word Processing and Uses.

Take a qualification course through the Open Polytechnic.

Join a choir.

Learn a musical instrument.

Learn to cook or take up different types of cookery.

Reading Large Print and Audio books from Blind Foundation.

Join a readers club.

Learn a new craft such as knitting, rug making, flower arranging, lithography or Lino cutting.

Join a local Sports Club as a supporter.

Join your local Gym.

Horse Riding and Equestrian eventing.

Learn Photography.

Support local theatre.

Learn Sound Recording and Production.

Take up Gardening, Hydroponics  or Plant Cultivation.

Join a re-enactment Theatre group.

Join an Ethnic community social group.

Undertake a Maori Emersion opportunity.

Take up ballroom dancing, jiving, etc.

Join a bridge club.

Become an Oral Crafts person,  Story Teller,  Ventriloquist or Orator.

There are several sports for visually impaired people, including – Archery;   Goal Ball;  Cricket;  Bowles; Soccer.

Become a 'Pen Friend'.

Join a Social Network" or lists on the internet on a subject close to your heart.

Learn one of the martial arts.